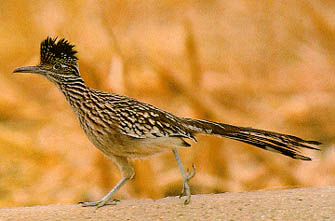 Grant County offers a half-dozen major habitat types for birds — and birders — to enjoy. From mountain spruce and pine above 7000 feet to Sonoran desert, the county offers an incredible range of habitat and bird species. For a great summary of birding sites in each, visit the Southwest New Mexico Audubon Society's locales page.
A wide array of bird fauna is found in the Gila National Forest and in the riparian, mountain and forest habitats surrounding The Wilderness Lodge..
Approximately 339 bird species have been sighted in the Gila. Of these, 166 species are known to breed on the forest, 114 are more-or-less regular non-breeders, and 57 are considered to be casual or accidental. The numerous species of birds found is largely related to the diverse ecological habitat found on the Gila and location on a migratory flight path.
In the forest, vegetation types range from spruce/fir forest high in the Mogollon Mountains to desert scrub and remnant grassland in the lower Burro Mountains. Small expanses of grassland are scattered in the higher ranges.
Generally, ponderosa pine is the dominant species at elevations between 6,000 and 7,000 feet. Somewhat higher, and in many canyons, is a mixed conifer forest typically dominated by Douglas-fir, often with Gambel's oak.
Woodlands of pinion pine, juniper and oak, in varying combinations, are present on drier sites throughout the forest.
Riparian areas support rich deciduous or coniferous woodland and, locally, small areas of marsh or other open habitats. This great ecological diversity provides for a remarkably varied fauna.
Other birding opportunities include:
Gila River Bird Habitat Area
Good riparian birding may be found among the riparian woods and hillside scrub along the Gila River. The Bird Area is located north of Silver City on US 180, near Cliff, on the Bill Evans Lake Road. Follow the paved road past the Lake turning and continue onto the dirt section 1.5 miles.

Cherry Creek and McMillan Campgrounds
Superb birding is found in the deciduous and coniferous riparian woodland nestled in ponderosa pine forest. Cherry Creek and McMillan are located on NM 15 approx. 15 miles north of Silver City.

Fort Bayard Historic District
Various habitats of riparian, oak, pinon-juniper, ponderosa pine woodland and grassland areas provide diverse habitats for many bird species. Follow US 180 to St. Clara and turn onto the Fort Bayard Medical Center access road. Pass the hospital complex by taking the right fork. Follow Forest Road 536 to the Fort Bayard Administrative Site Trailhead. Parking is 1/10 mile west of the junction of forest Roads 536 and 929.