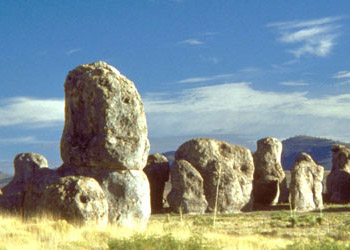 Formed of volcanic ash 30 million years ago and sculpted by wind and water into rows of monolithic blocks, City of Rocks State Park takes its name from these incredible rock formations. Cactus gardens and hiking trails add to this unique destination.
The rock formations at the park are so unique that they are only known to exist in just six other places in the world. Imaginative visitors may see the rock formations as a small city, complete with houses, chimneys, courtyards, and streets.
Until 1200 A.D., Mimbres Indian roamed this area and left arrowheads and pottery shards as evidence of their culture. Spanish conquistadors also spent time in the area, carving crosses into the rocks. Visitors today can see a sampling of southwestern plant and animal. The park's desert botanical garden is home to cow's tongue and bunny ear cacti, Yucca, and towering Century plants. Deer, antelope, javelinas, and jackrabbits are frequently seen in the area, along with over 35 species of birds, ranging from Golden Eagles to finches.
The park's hours are 7 a.m. to 9 p.m. and the park manager can be reached at 575-536-2800.