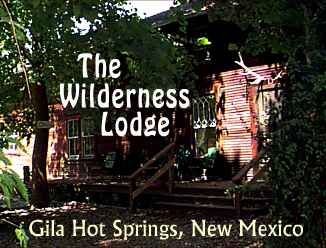 The 100-year-old Lodge was originally a school house in Hurley, New Mexico. In the 1960's, a man named Coy Rasberry single-handedly dismantled and moved it to Gila Hot Springs.
Nowadays, you can enjoy the rustic charm of this old school house as a unique Bed & Breakfast. Wake up to the smell of fresh coffee brewing and breads baking. Take a relaxing soak in one of our hotpools, fed from the nearby hot springs. Accommodations include a two-bedroom suite with a private bath on the first floor. Upstairs bedrooms share a bath. There are also two large rooms suitable for meetings and workshops.
We love groups!
Family reunions, weddings, church retreats, parties, workshops, you name it. We'll cook the meals and do all the work for you, or bring your own food and use our kitchen. Our homey atmosphere keeps some groups coming back year after year.
Make the Lodge your basecamp to explore the vast Gila Wilderness. Standing on the shady front porch, you are literally surrounded by Wilderness. Bordered on two sides by mountain ranges with peaks over 10,000 feet high, the Gila Wilderness and its neighboring Aldo Leopold Wilderness comprise over 880,000 acres of rugged terrain.
After a hard day in the wild, you can look forward to a relaxing soak in our beautifully sculpted stone hotpools, and a good night's sleep.