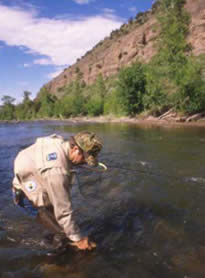 Although the Gila Wilderness is generally an arid landscape, lakes and streams provide opportunities to fish for trout, smallmouth bass, catfish and more. Given the huge variations in altitude experienced in the County, a fisherman can chase trout in the morning, bass in the afternoon and catfish in the evening!
Check the weekly fishing report for fishing spots and familiarize yourself with New Mexico's fishing regulations. A number of back-country streams offer the chance to fish in complete solitude, but check with us first for more information: These remote streams can be accessed by a variety of means, including foot trail and horseback.
Some of the more common sport fish found in these waters include rainbow and brown trout, large- and smallmouth bass as well as channel and flathead catfish.
Many native fish are also found in the streams on the Gila, several of these, such as the Gila Trout are considered threatened or endangered. Recovery efforts are underway to help establish fishable populations of the Gila Trout.
Lake Fishing
Lake fishing is available nearby on Lake Roberts and on two other man-made lakes in the Gila National Forest. The New Mexico Department of Game and Fish (NMDGF) stock all three with rainbow trout in fall, winter and spring months.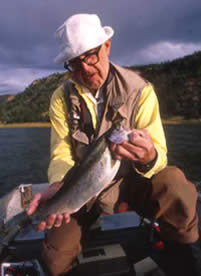 Lake Roberts offers trout fishing during the cooler months and warm water fishing for channel catfish and small mouth bass during the summer months. Quemado Lake and Snow Lake offer year-round trout fishing.
There are an additional three lakes, Bear Canyon Reservoir, Wall Lake, and Bill Evans Lake located adjacent to the Forest that are leased by the NMDGF where the public is welcome to fish.
Stream Fishing
The Gila National Forest contains many miles of streams that provide both cold and warm water fishing opportunities. Both the Gila River and the San Francisco River along with their many tributaries are located within the Forest. Upper reaches and headwater tributaries of both rivers offer trout fishing, the lower reaches of both rivers offer quality warm water fishing opportunities.
Important Notes
Fishing licenses are required in New Mexico. Anglers fishing on lakes and streams on National Forest lands are also required to purchase a Habitat Improvement Stamp. These are available from various vendors within and around the Gila National Forest and from the New Mexico Department of Game and Fish.