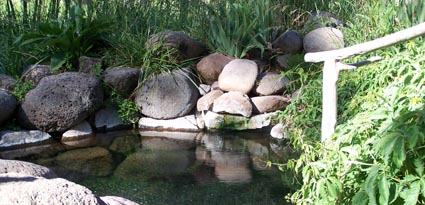 The Wilderness Lodge has two of the best spring-fed thermal pools in the Gila Wilderness, and we're just across the river from the world-famous Gila Hot Springs. You can find a relaxing soak in either one any time during your stay.
If you're looking to find even more secluded hot springs, the Gila Wilderness offers many. We'd be glad to help you plan your hike and provide information on back-country hot-spring safety. Remember, geothermal heating creates these spectacular hot spring pools, and they can be very hot!
You'll find hot springs on a variety of trails, including:
The Middle Fork Hot Springs are particularly hot, perhaps the hottest in the Gila Wilderness. We' d be glad to help you plan a hot-spring hike that's both safe and memorable!